The Hoffmans
The Hoffmans invite you to read about the cottage history of Cottages at the Water's Edge. Dave and Therese Hoffman are the owners of Cottages at the Water's Edge. The cottages were purchased in 1985 from Therese's aunt and uncle who operated the business under the name of "Sy Sans Beach" from 1963 to 1985. They purchased the business from Therese's grandmother who operated it from 1953 to 1963 under the name "Miller's Sandy Beach Cottages".
Dave and Therese make an ongoing commitment to provide a truly old-fashioned vacation getaway for families. It is here, that they have made many wonderful friends and raised their three children. Dave and Therese invite you to join them and discover for yourself the magical moments that can be had at the Cottages at the Water's Edge while writing your own history.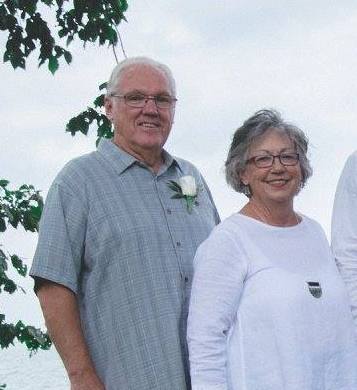 Our Resort History…
Late 1800's – Depression:
The Office (Stop 141) was once a barn! During some remodeling, a piece of barn fence was discovered in a wall with someone's initials engraved on it. The foundation of the house has some old barn beams in it. A store was opened in this home at that time. This home served as a stop for the Lake Erie Interurban Train that operated from the late 1800's until the late 1930's.
1926 – 1928:
The Walker family owned and operated this business during this time frame. One of the children, now in her mid-90's, has written the history of their wonderful life here in the countryside. It was this family that traded with the following family in 1928.
Depression (1930s):
The current owners were fortunate to meet the lady (Thelma) who lived here as a young girl during the depression. Her parents were from Lakewood, Ohio and needed to find work. An ad appeared in the newspaper requesting trading this business for a house in Cleveland. So the families traded homes and Thelma moved here with her parents and brother. Thelma describes how quiet and boring her life became after moving from the city. They operated the store and also rented camping spaces in the orchards that surrounded them for 25 cents a night! People out of work would walk the highway and her parents gave out sandwiches when they could.
Thelma's father decided to build her a small cottage (later to become Cottage 3) so that her friends from Lakewood could come and visit. She was never able to do so as the cottage quickly became a rental, an additional source of income for the family. He continued building Cottages 4, 5, 6, and 7. They eventually sold to the Lloyd Moats. Recently, Bill Shover stopped in to tell us that his mother rented the house and operated the cottages from 1951 – 53.
Therese's mother, Matilda Simon, came here with here girlfriends in the mid-30's, perhaps when Thelma's parents still owned it. The young people from Cleveland came out to Vermilion to the dance hall at Crystal Beach or Cedar Point and stayed in cottages.
1953 – 1963:
Therese's grandparents on her father's side (Ida and Louie Miller) purchased this property in 1953, calling it Miller's Sandy Beach and they maintained the store and rental business. Therese's father and family did not visit here during the grandparent's ownership because they lived too far away and were running a dairy farm. Cottage 8 was built during this time.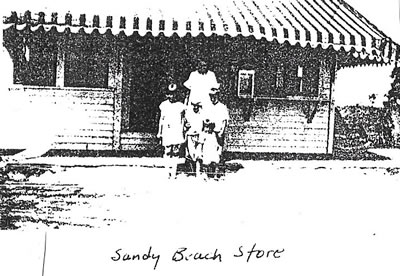 1963 – 1985:
In 1963, Therese's aunt and uncle on her mother's side of the family (Frank and Helen Simon), bought the property. This included Cottages 1 – 9 and 200 ft. of lake frontage. (Cottage 9 was already here and we are not sure who built it. Perhaps the owners between Thelma and Millers.)
Frank and Helen did the heavy task of remodeling – putting in indoor plumbing, windows, etc. The vintage kitchenettes that you see in Cottages 4, 5, 7, 8, and the Garden Cottage were bought from a brother in Lorain, who was closing some apartments. While here, Frank and Helen also did a lot of lakefront work to prevent erosion. The Simons called their business Sy Sans Beach (Sy for Frank who Helen called Simon, and Sans for the sandy beach). They ran this business without a lot of help from 1963 to 1985. Thank goodness Frank was a carpenter and Helen knew how to run the business!
1985 – 2016:
In 1985, Helen and Frank sold this property to Dave and Therese Hoffman (Therese was the niece of Helen and Frank.) They moved here with their two small children, Marie and John, and took over a well established business. This consisted of Cottages 1 – 9 only. Guests still come who came in the 1950's. Of course, they are the grandparents now!
Helen taught Therese the cycle of the business and how to clean cottages! Therese was a nurse by profession and intertwined her career with managing the cottages and two children. Dave continued to work in the sales industry and managing the grounds work here. Another baby came along, Paul in 1986, so Therese managed by carrying the baby with her as she cleaned in the season of 1986! In the 1990's, Dave and Therese changed the cottage name to Cottages at the Water's Edge.
A couple of years later, the property on the east side came up for sale so Dave and Therese added this to their business. An old farmhouse, remodeled to be the current Guesthouse, along with some very old seasonal cottages were on the new property. These include Cottage 10, 12, Rose and 3 seasonal cottages.
2017:
Dave and Therese remodeled the bunkhouse, which is on the lake side of their house, and it is now known as the Beach House.
2019 – Present:
In 2019, son Paul and his wife Amy moved to Vermilion. Paul works in finance and with the Air National Guard and Amy is managing the cottages and working to preserve and share the history of this property.
Dave has continued to improve the grounds every year including lots of work on the lakefront. He receives many compliments on his work. Flowers and new trees abound on the property each season.
Therese likes to work on the interiors, always looking for vintage furnishings so that guests can experience stepping back in time when they are here.
New for 2023:
Walnut Grove Estate and the Beach Town Getaway are new offerings for the 2023 season and beyond. Whether you would like to stay in town, out of town, or by the lake we now offer something for everyone!
Now that you've read about our Cottage history, take a look at how our cottages look today. Follow us on Instagram or Facebook for even more pictures and a look behind the scenes.